Minggu, 11 Apr 2010 16:25 WIB
Rock Band Suguhkan 47 Lagu Punk Green Day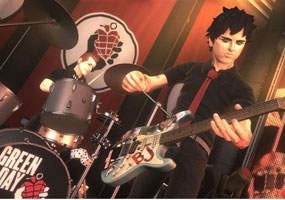 Jakarta
- Game simulasi musik bertajuk Rock Band memang selalu menyuguhkan lagu-lagu dari musisi kondang yang dapat dimainkan siapa saja. Setelah The Beatles, kini giliran Green Day yang siap 'manggung' untuk pecinta musik punk di game tersebut.
Setelah kehadiran
The Beatles
dalam Rock Band, beberapa musisi kondang lainnya seperti
U2
dan
Queen
, juga ingin ikut terlibat dalam industri video game.
Namun selain mengambil dari group band papan atas bertema Rock, Harmonix selaku pengembang game tersebut juga mulai mencatut band lain yang berirama Punk Rock, yakni Green Day.
Tidak tanggung-tanggung, seperti dikutip
detikINET
dari
Game Informer,
Minggu, (11/4/2010), sebanyak 47 judul lagu Green Day dapat dimainkan pada game Rock Band terbaru.
Lagu-lagu tersebut antara lain:
The Warehouse
Album Dookie (1994)
Burnout
Having a Blast
Chump
Longview
Welcome to Paradise
Pulling Teeth
Basket Case
She
Sassafrass Roots
When I Come Around
Coming Clean
Emenius Sleepus
In the End
F.O.D.
Milton Keynes
Album American Idiot (2004)
American Idiot
Jesus of Suburbia
Holiday
Boulevard of Broken Dreams
Are We the Waiting
St. Jimmy
Give Me Novacaine
She's a Rebel
Extraordinary Girl
Letterbomb"
Wake Me Up When September Ends
Homecoming
Whatsername
Album Warning (2000)
Minority
Warning
Album Nimrod (1997)
Hitchin' a Ride
Good Riddance (Time of Your Life)
Nice Guys Finish Last
Album Insomniac (1995)
Brain Stew
Jaded
Geek Stink Breath
The Fox Theater, Oakland
Album 21st Century Breakdown(2009)
Song of the Century
21st Century Breakdown
Before the Lobotomy
Last Night on Earth
Peacemaker
Murder City
Viva La Gloria (Little Girl)
Restless Heart Syndrome
Horseshoes and Handgrenades
The Static Age
American Eulogy
See the Light
21 Guns
Know Your Enemy
East Jesus Nowhere
Last of the American Girls
Viva La Gloria!
Christian's Inferno
(eno/rou)